Register Now!
Or paste this link in your browser's address bar: https://2018.getglobal.co/buy-tickets-now/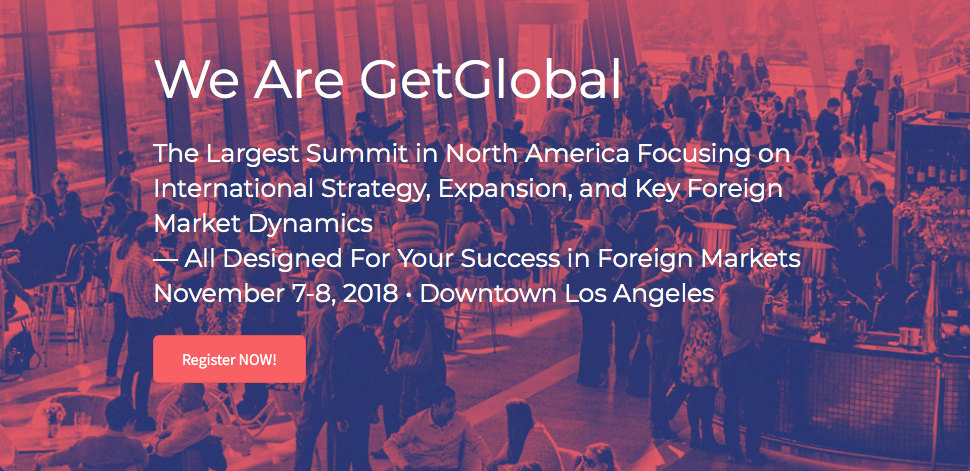 Save The Date for GetGlobal 2018: November 7-8
Location: The Los Angeles Theatre Center, 514 S Spring St, Los Angeles
A look ahead: GetGlobal 2018 is bringing you first-rate intelligence on what is driving global business forces so that you can keep the inside track on this complex and fast-moving economy. Speakers include...
Ambassador Carla Hills, a two-time cabinet secretary in the Ford and Bush administrations, is Chair of the National Committee on U.S.-China Relations and on the executive committee of the Trilateral Commission. As a former US Trade Representative, she will share her invaluable perspectives on what lies ahead in the highwire trade and investment situation with China. View the archive of our webinar with Ambassador Hills here.
Tom Doctoroff will share the views he's developed over 25 years in China on what it takes to win with China's consumers. Until recently, he was the Asia Pacific CEO of JWT, and today is Chief Cultural Insights Officer at Prophet, a global brand consultancy. Listen to our podcasts with Tom here.
Diane Gotua will share her experiences as the VP of Global Business Operations at NBA in growing the National Basketball Association's presence and appeal in new markets from India to China to Africa and beyond.
Humphrey Ho is the US Managing Director for Hylink Digital, China's largest independent full-service digital agency. Humphrey has precious insight into Chinese travelers, Chinese consumer data, and China's ultra-wealthy. Listen to our podcast with Humphrey here.
Joel Backaler is a managing director at Frontier Strategy Group, an economic and political risk analysis firm, and is the author of China Goes West and the just-released Digital Influence: Unleash the Power of Influencer Marketing to Accelerate Your Global Business.
GetGlobal 2018 Will Have Two Days of Programming...
Day 1 (Nov 7) — India Insight Summit
GetGlobal and the US-India Business Council are teaming up to deliver a one-day program to discuss what's moving India's business environment today, and how companies should position themselves for success in one of the hottest markets in the world.
Day 2 (Nov 8) — GetGlobal Summit
GetGlobal returns with its third edition of the largest and most comprehensive coverage in North America of critical issues in international expansion, strategy, and key foreign markets.
Global Chamber is pleased to be a partner again this year.
Global Chamber members.... Use the code GLOCHAMFRIENDS to get 25% off tickets
514 S Spring St, Los Angeles, CA 90013, USA