NAFTA Update for Your Business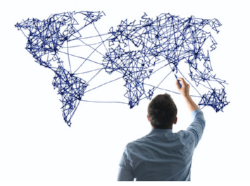 Our discussion is for exporters, importers and cross-border investors to learn how NAFTA and other trade developments will impact their business this year and beyond.
We're speaking with leaders who are on top of all the changes and innovations made to the most important trade agreements. We'll be offering up a mix of information on tax reform, NAFTA, trade/tariffs and more.
This special NAFTA series, in collaboration with Dickinson Wright, will be held in various cities over the coming year, with the kick-off in Phoenix May 15th. Each discussion will be a multi-metro event, allowing members to tune-in from anywhere.
Join Global Chamber® for this important multi-metro event in-person at any of our multiple participant locations or virtually on ZOOM.
- - - - - - -
Goal: Learn from practitioners and experts who are up-to-date on all the information exporters and importers need to know about NAFTA and other trade agreements.
Who Should Attend: Executives at exporters, importers & investors - CEOs, COOs, CFOs, EVPs, business, sales, marketing.
- - - - - - -
Attend virtually from anywhere... you'll receive a zoom login.
In-person locations: Metro Phoenix: Skysong, 1475 N Scottsdale Rd, Scottsdale, AZ, 7:45am-9:25am PST
And Metro Nashville: Location to Be Announced
Agenda
@ 45 after the hour... Gather/Network at Physical Locations
00:00 Start the Multi-Metro Globinar
"The Importance of NAFTA" - Rep. Kyrsten Sinema (invited)

"Update on NAFTA and Tariffs" - Daniel D. Ujczo at Dickinson Wright

"Impact Between Canada and the US" - Brenda Swick at Dickinson Wright

"Welcome US Companies to Mexico Under NAFTA" - Consul General Claudia Franco Hijuelos (invited)

"Finalizing NAFTA and Other Trade Agreements" - US Trade Representative Carol Colombo (invited)

"Practical Next Steps for Your Business" - TBA
00:60 Q&A
01:30 End Events and Virtual Globinar
Post Event Networking