Register Now!
Or paste this link in your browser's address bar: https://www.eventbrite.com/e/doing-business-with-norway-tickets-53567119697?utm_source=World+Trade+Center+Utah+Newsletter&utm_campaign=39e6f9d6b0-EMAIL_CAMPAIGN_2018_02_21_COPY_01&utm_medium=email&utm_term=0_4335beec3c-39e6f9d6b0-59997297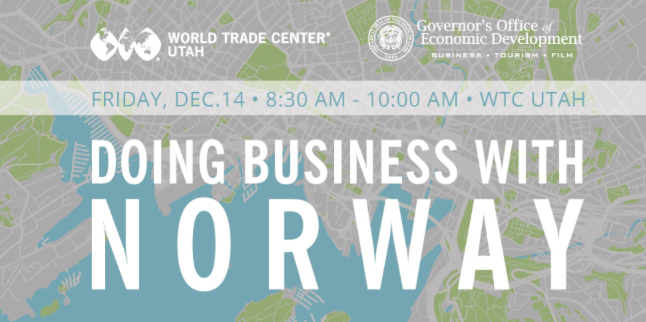 World Trade Center Utah, in partnership with the Governor's Office of Economic Development, is delighted to host a diplomatic luncheon welcoming Jo Sletbak, Consul General of Norway, and Lars Johansen, Honorary Consul General of Norway.
What: Diplomatic Roundtable Discussion - Doing Business with Norway
When: Friday, December 14 from 8:30 AM - 10:00 AM
Cost: Free
Where: World Trade Center Utah Building - Canyonlands
60 E. South Temple #300
Salt Lake City, UT 84111
Join us for an opportunity to strengthen trade and investment ties between Utah and Norway. Light breakfast will be provided.