Magnificent Global Leaders: Support for Technology Exports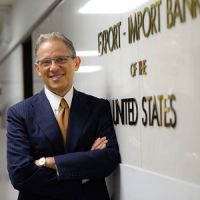 Fred P. Hochberg
Chairman and President of

EXIM

Bank
"Building a New Economy"
Global Chamber® New York is proud to present the webinar that will be dedicated to new technologies. Our special guest Chairman and President of EXIM Bank, Fred P. Hochberg and speakers from New York, London and San Francisco will discuss new tendencies and influences in developing economy of tomorrow.
The webinar will be broadcasted LIVE
Magnificent Leaders Radio, moderated by Patty Azar
This LIVE webinar is brought to you by Global Chamber® New York City, Global Chamber®San Francisco and Global Chamber® London.
Agenda
2:00 - 2;30pm NY/ET: Chairman Hochberg w/ Tatiana Nikishina & Patty Azar
2:30 - 3:00pm ET: Roundtable of Exporters
3:00 - 3:15pm ET: Roundtable of Executive Directors
EXIM Bank is the official export credit agency of the United States. It is an independent, self-sustaining Executive Branch agency with a mission of supporting American jobs by facilitating the export of U.S. goods and services.
When private sector lenders are unable or unwilling to provide financing, EXIM Bank fills in the gap for American businesses by equipping them with the financing tools necessary to compete for global sales. More about EXIM Bank HERE.
Export-Import Bank of the United States is a collaborator of Global Chamber.